Why Boutique Hotels Will Be Top of Mind for Event Pros in 2021
With smaller gatherings still the norm, these 18 boutique hotel properties are primed for socially distant meetings.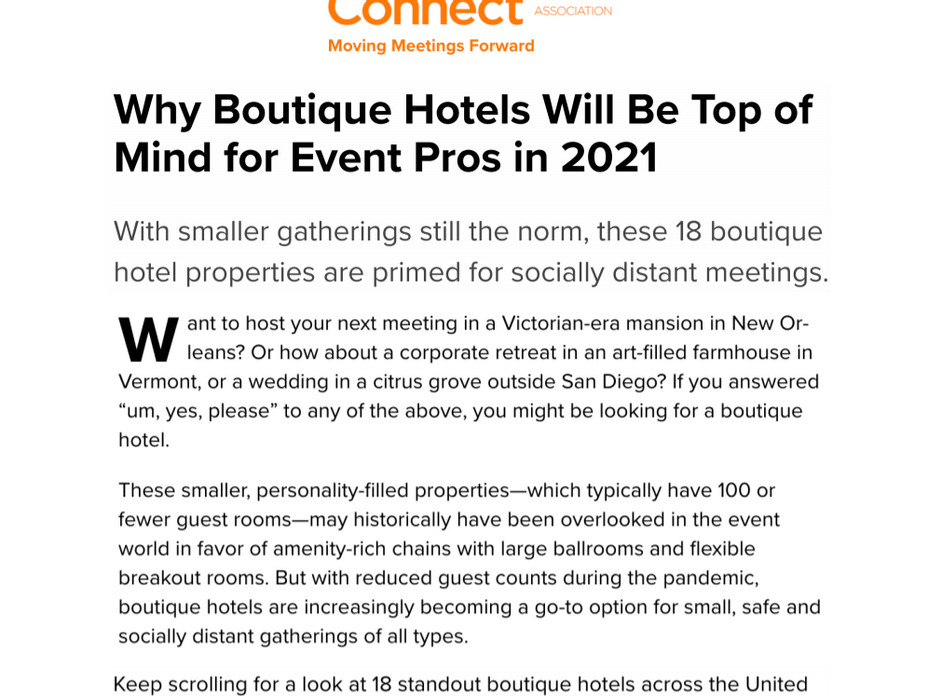 Want to host your next meeting in a Victorian-era mansion in New Orleans? Or how about a corporate retreat in an art-filled farmhouse in Vermont, or a wedding in a citrus grove outside San Diego? If you answered "um, yes, please" to any of the above, you might be looking for a boutique hotel.
These smaller, personality-filled properties—which typically have 100 or fewer guest rooms—may historically have been overlooked in the event world in favor of amenity-rich chains with large ballrooms and flexible breakout rooms. But with reduced guest counts during the pandemic, boutique hotels are increasingly becoming a go-to option for small, safe and socially distant gatherings of all types.
Here are three reasons to consider a boutique property for your next event.
1. Safety during COVID-19
"Gathering in smaller, more controlled and more intimate sizes may provide the opportunity to control safety measures more than larger events," explains Bobby Mikulas, one of the co-founders of Kinship Landing, a new 40-room hotel in Colorado Springs, Colo. With limited indoor space, for example, many boutique properties focus on offering standout outdoor space, widely considered a safer option during the pandemic. What's more, smaller hotels are more likely to allow full buyouts; for example, the Washington School House—a rustic, 12-room getaway in Park City, Utah—is offering full property buyouts starting at $7,000 per night during off-peak months.
Some smaller properties also feature standalone cottages complete with their own entrances, ensuring both a private—and safe—experience for every attendee. Southern California's Rancho Valencia Resort & Spa, for example, offers 49 standalone "casitas," each with a private entrance and its own HVAC system. The resort's director of sales Mark Phillips adds, "With social distancing in the forefront of safety, our function space delivers a fresh, open-air feel with open doors and patios bringing natural lighting and fresh air elements into the space."
2. Eclectic, inspiring meeting spaces and settings
Now more than ever, people need the motivation to leave their homes and attend your event—and boutique hotels may be the key. Many are set in unique, off-the-beaten-path locales, or are open to hosting small gatherings in unconventional spaces like greenhouses, restored barns or even (in the case of the 89-room Robey Hotel in Chicago) inside a historic bell tower.
"Opportunity to connect in inspiring environments provides subtle nudges toward openness, creativity and innovation," points out Mikulas. "This is great for groups intending to discover fresh solutions and unique ideas, and foster authentic connections. When the corporate facade is taken away, people feel the freedom to be fully present, attentive and engaged."
The locations can also lend themselves to some memorable and unique team-building options, like hiking paths through the grounds or personalized culinary experiences from on-site farms. "The in-between moments become infused with dignity and passion when the built environment is attentive and curated for smaller groups, and boutiques at their best are designed with these types of groups in mind," says Mikulas.
3. A more personalized experience
With fewer guests and groups to manage at once, smaller properties like Rancho Valencia Resort & Spa can often offer a more tailored experience than a large resort, notes Phillips. "This exclusivity on property gives the attendees the feel of privacy and personalization, versus being part of the masses with a larger property," he says. "[For example,] we have the flexibility to customize menus or personalize each attendee's 'workspace' during the entire program. ... All setups can be customized based upon the program's needs, keeping the attention on the safety and welfare of all guests."
Keep scrolling for a look at 18 standout boutique hotels across the United States and Canada to consider for your next small gathering.
(Note: Unless otherwise indicated, listed capacities may not reflect current distancing regulations. Contact the venues directly for the most up-to-date information.)
The Rockaway Hotel in Queens, N.Y.
Open since September is The Rockaway Hotel in Queens, N.Y. The luxury, beachside property has 53 guest rooms, including eight extended-stay suites. There's 25,000 square feet of indoor and outdoor event space, including the 5,000-square-foot Harbor Room with floor-to-ceiling windows and the 3,140-square-foot Sun Deck, which seats 350 or holds 500 for receptions. Additional spaces include a prefunction room that holds 90, a rooftop area that holds 300 and a terrace with space for 100. (Photo: Courtesy of The Rockaway Hotel)