Vogue
The Rockaway Hotel Is More Than Just a Summer Scene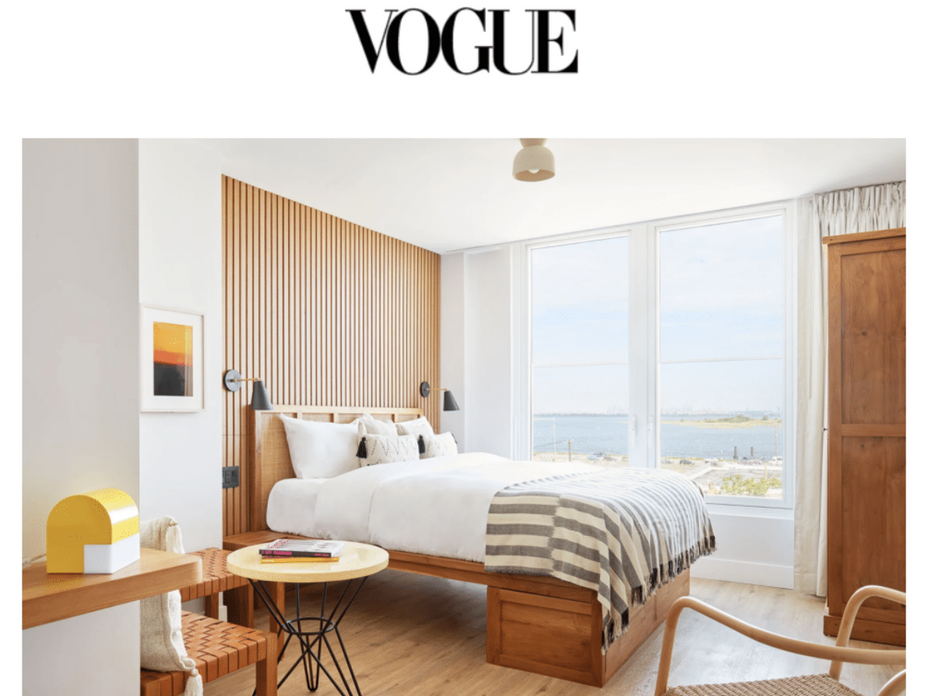 At the top of the stairs in the lobby of the Rockaway Hotel, there is a black and white photograph of two surfers trudging through the snow. Their faces are red from the cold, and their bodies, cloaked in black hooded wetsuits, lean into the wind on the boardwalk at Beach 91st Street. Above the photo, which was taken by Susannah Ray, a local, are the words "forever and longer" in black ceramic pieces. "It's about these two cultures that have been polarized in so many ways," says Michi Jigarjian, a partner and chief social impact officer at the hotel. "And what it means to be committed to someone, or something."
Against all odds, the 53-room hotel, which boasts 16,000 square feet of outdoor space—a luxury for any building in New York City but a necessity for one that opens amid a pandemic—is up and running, offering outdoor and indoor dining (at 25% capacity) and hosting small, socially distanced yoga classes on sun decks lined with heat lamps overlooking the Atlantic Ocean. The 84,000 square foot space, which was designed by Morris Adjmi of the Wythe Hotel, occupies an entire block on Beach 108th Street, just a few bungalows away from the ferry landing on the bay and the boardwalk along the ocean.
Jigarjian and her partners, which include IGC Hospitality's Terrence and Dan Tubridy—two tall Irish brothers who spent summers at their grandmother Margie's house in Rockaway, and own the local Bungalow Bar as well as Park Avenue Tavern in Manhattan—were set to open the hotel's deep blue doors on Memorial Day, but couldn't due to delays caused by the spread of COVID-19. Still, Jigarjian says the hotel's Labor Day grand opening "was a huge win. The hotel was a beacon of hope in a neighborhood that has deserved this for so long. And we're not going anywhere."
Inside the lofty lobby (a modern and beachy space Jigarjian calls "Rockway's living room"), every corner seems to celebrate its home turf. Surrounding the wood-burning fireplace are deep set couches in warm teak finishes and rattan rocking chairs for lounging, courtesy of the project's lead design firm Curious Yellow of the Hero Beach Club in Montauk. Vintage textiles and vases filled with plants and feathers adorn custom white-oak shelving that displays books about surfing. Near the stairwell, there is a chromogenic print of a pigeon that is in a moment of flight by New York-based photographer Roe Ethridge. Nearby lies a pile of blue airplane blankets from John F. Kennedy International Airport, which is a few stops away on the subway, by Alessandro Teoldi. Two pieces by the artist Tom Sachs, who lives on the peninsula, stand out: a moon rock box and a large painting of the lunar lander, both part of his ongoing space-themed series. It's a reminder, says Jigargian, that in Rockaway, "we're at the edge of everything in New York City."
The peninsula is known for its panoramic views of New York, and the hotel, which is wrapped in zinc paneling and stands six stories high, offers all of them. There is the ocean to the south, the bay to the north, the bridge into Brooklyn and the Manhattan skyline just beyond it. Bungalows, some of which were built in the 1920s, punctuate the streets, their clapboard exteriors and sagging telephone wires proof of an enduring beachfront community.
On the roof, a large wooden bar with a marble and black metal top is set behind a wall of glass windows; it was designed to entertain outdoor dining guests even on the windiest of nights, acting as a shield against the strong winds that come off the ocean, says Jigarjian, reinforcing the local knowledge that went into the construction of the site. "The wind, the light—it was all considered."
Due to the coronavirus's looming second wave, many of the hotel's amenities, like two large, ballroom-esque event spaces, forthcoming spa, boutique Warm NY, a full service restaurant offering seasonal fare called Margie's (named after the Tubridy's grandmother), and the grab-and-go Greenhouse Cafe are either not yet open, or opened at limited capacity and on the weekends only. On the outdoor pool deck, which is located on the main floor, a large heated tent replete with wooden tables situated six feet apart and oversize blankets was set up by staff for Thanksgiving. Still, the optimism is paramount. "We're lucky to be able to provide these communal spaces, but we also provide privacy: a chance to be alone, or with one other person," says Jigarjian, a reminder that even hip hotels can act as escapes from crowds and homes, especially ones that have become our offices, kids' schools, and gyms.
Like the outdoor terraces, every room has a view, either of the Atlantic Ocean or Jamaica Bay. There are standard rooms and suites as well as eight long-term stays called bungalows; custom made bamboo chairs and rattan beds are topped with crisp white linens by Hill House Home, and flanked by black sconces by Cedar and Moss. Hanging on the teak slatted walls is more art: a picture of a red-headed boy at the beach, a flamingo picking at its feathers, kids in a field eating berries. These photographs and prints were sourced from a variety of nonprofit visual arts organizations and COVID-19 benefit programs, such as Pictures for Elmhurst, a fundraising print sale that dedicated proceeds to medical workers at the hard-hit Elmhurst Hospital Center.
But the most personal piece of art at the Rockaway Hotel isn't at the Rockaway Hotel at all. It's across the street, on the playground at Waterside Children's Studio School, an arts-first public elementary school. A large mural by the installation artist Shantell Martin covers the newly re-sealed blacktop; stick figures and faces swirl around words like "power" and "pop" and "yes you are you."
"When we came in, we did a lot of listening," says Jigarjian, explaining that many of the hotel's first initiatives were built around kids, like the mural and an ocean-ready program designed to teach children the importance of swim safety, a skill that is missing in homes and schools along the peninsula, and adding to deaths caused by drownings along the coast. The pilot program, a collaboration with Imagine Swimming, took place at the outdoor pool in October; it involved seven students from St. John's, a residential foster care agency for boys aged 12 to 21 located on Beach 110th Street. Some of the boys associated negative feelings with the ocean, and didn't feel comfortable going near water even though they live along it, Jigarjian's colleague who leads the initiative, Georgia Harrell, says. Others had tried, but went in up to their knees, a deceiving level at which beginner swimmers can easily be swept out to sea. The program is still in development, partially because of the limits brought on by the pandemic, but also because the hotel and Imagine Swimming plan to regroup with parents and community stakeholders to build a comprehensive program that starts with buoyancy and full body strokes and leads to lifeguard certification, says Harrell.
To be sure, the Rockaway community, which was one of the hardest hit by the coronavirus in New York City, not to mention other tragedies—most recently Hurricane Sandy and 9/11, with generations of lost firefighters and Wall Street traders—is in need of more resources than a luxury hotel can likely offer. And while Jigarjian and her team do not anticipate solving the decades-long challenges belonging to Rockaway, which has long been cast aside by the city, it wants to help. "Food insecurity has been very clear here," says Jigarjian of the area that's still a federally-labeled food desert. That's why the hotel is working with the community-led organization The Campaign Against Hunger to help finance a two-acre urban farm in Edgemere, which is about 70 streets east in Far Rockaway.
Perhaps the single most important offering the hotel can give to the many hard-working families in Rockaway—many of whom can't afford a $15 dollar drink at its rooftop bar—is a job. At the moment, says Jigargian, "employees are 80% local to Rockaway." What's more, the hotel, which is one of 10 restaurants and bars within IGC Hospitality, is developing an eight-week workforce initiative that focuses on hospitality training. It will be free and made available to locals "as soon as we can have a classroom indoors," says Jigarjian, explaining the certificate program won't only be teaching young kids how to dress for and walk into an interview. "There are a lot of people in Rockaway that want a second career, a second job, that don't want to commute into the city anymore. We can't cure anything, but what we can do is train people in hospitality."
A lot is riding on the hotel on Beach 108th Street, a paved over cobblestone boulevard that was once home to Rockaway's bars and festivals and dance clubs where acts like The Platters came to play in the summers in the '50s. And a lot of people are rooting for them: the patrons in masks who continue to dine outside at the rooftop bar amid this unseasonably warm November, and local businesses involved in the hotel, like Goldie's Natural Beauty, Locals Surf School and The Rockaway Brewery. Even neighboring watering holes, such as Happy Jacks, which is located across the street, have high hopes for the hotel. The owner, Mike Dalton, is one of 12 in a family that once owned the restaurant where Margie's now stands. Dalton worked for the Tubridy brothers' father, a restaurateur who also owned a deli on 113th Street, not far from his mother's rooming house—a Bed and Breakfast style inn that was popular on the peninsula. Back then, people from the city would come down and rent two bedrooms and a bathroom for a weekend beach getaway. The hope is that they will again.