Rockaway Hotel Kicks Off Summer Music with Lewis del Mar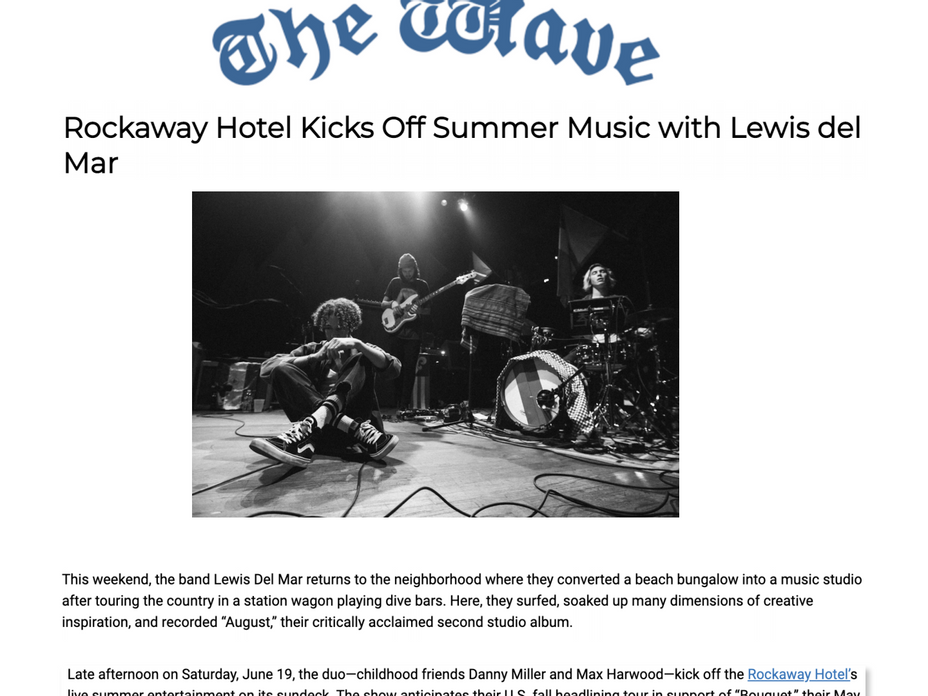 This weekend, the band Lewis Del Mar returns to the neighborhood where they converted a beach bungalow into a music studio after touring the country in a station wagon playing dive bars. Here, they surfed, soaked up many dimensions of creative inspiration, and recorded "August," their critically acclaimed second studio album. Late afternoon on Saturday, June 19, the duo—childhood friends Danny Miller and Max Harwood—kick off the Rockaway Hotel's live summer entertainment on its sundeck. The show anticipates their U.S. fall headlining tour in support of "Bouquet," their May 2021 EP and follow-up to "August."
"I saw them a few years ago at Firefly Festival in Delaware, and their live show just blew me away," said Ryan Adams, programming manager for the hotel and a recent Rockaway transplant from Manhattan. "Paul Simon, a total legend, was playing on the main stage, while they had a few hundred cult fans watch their entire set. They gave it their all—that's what I look for in booking bands."
Adams, who also runs the Great South Bay Music Festival on Long Island, then found out Lewis del Mar had lived and recorded in Rockaway. With the hotel opening, it all clicked: "I've been talking to Danny, Max, and their manager throughout the [COVID-19] shutdown. Now the timing is right."
As restrictions are lifted, Adams is securing all entertainment for the hotel and organizing the schedule—for wellness, activations with brands, poolside DJs, rooftop music and other on-site events, and even off-site events. "All teams chip in, from food-and-beverage to operations," he said. "We have a lot of fun with it. For a clambake on the roof, we might have a cool five-piece New Orleans brass band playing."
Along with details like pairing food and beverage with music, Adams is focused on exceeding hotel guests' expectations. "They might check in and come around the corner to a live jazz trio. It's so much better than just hearing a playlist through speakers," he said. Showcasing year-round live music also helps to support local musicians. For some, the hotel provided their only covid-era gigs, especially during the long, cold winter.
Lewis del Mar's new EP, which evokes Danny's Nicaraguan heritage by incorporating Latin percussion, grew out of that time and more personal tumult. Amid mental health struggles and arguments about the band's future, Danny's father died during production. Like so many people whose perseverance deepened during the pandemic, the two kept going. Since they met as nine-year-olds playing trumpet in their fourth-grade band, their bond is lasting.
On Saturday, that connection will be on display and echo in their sound.