'How a Beach-Side Stay at The Rockaway Hotel Made Me Feel Immediately Less Stressed'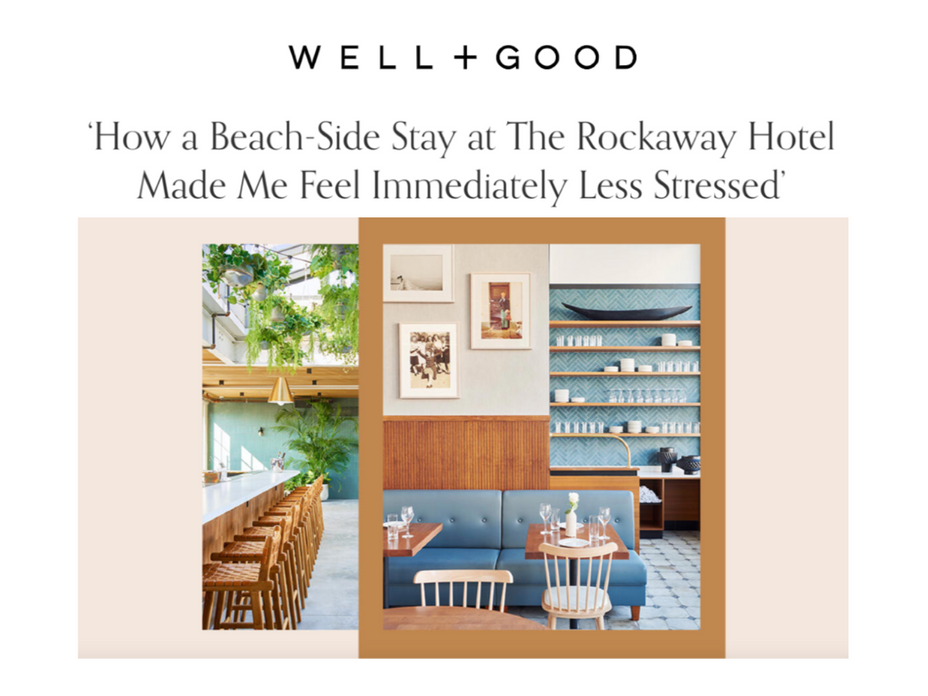 No joke: Just walking into the hotel lobby made me feel calmer. In a sea of neutrals and surf-inspired prints, I was immediately transported from my everyday, New York state of mind to somewhere different, somewhere serene. I walked around the pool, put in a reservation at The Rooftop, the aptly named bar atop the hotel, and then I took a nap. Rest and relaxation was on the docket.
Having already won accolades (including being named one of the Best New Hotels in the World by Travel+Leisure) and only being open since late summer 2020, I'm clearly not the only one who fell for its charms the second they walked through the door. After I woke up, it was time to eat. Heading upstairs, I sipped one of their classic cocktails—the Shark Bite (with tequila, cucumber, watermelon, lime, and Tajín, a chili/lime seasoning)—and watched the orange sun set over the Atlantic.
After taking the hottest shower I could (sorry, skin), I slipped into bed and slept a solid eight hours. (Something I hadn't done in quite some time.) Waking up to an ocean sunrise outside of my window, going out onto the balcony for fresh salt air, and walking just one block to the beach to hear the sound of the waves was the reset I needed. Looking out to the horizon, I felt relaxed and happy. Blue-mind living, indeed.