CNN Travel
New York City's only surfing beach is finally primed for overnight tourists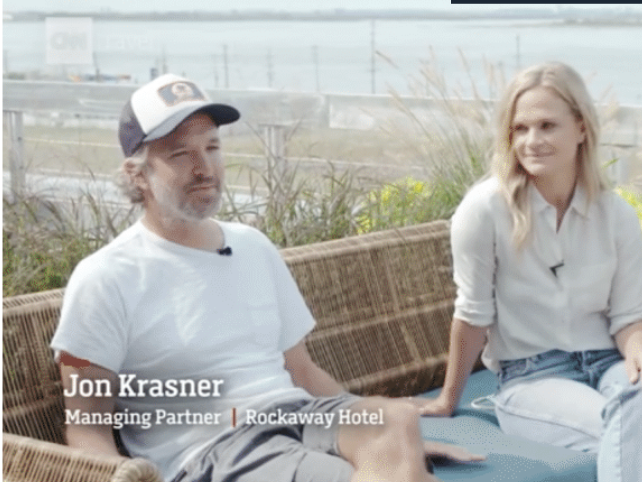 "You can't just make a surf break. It's either there or it's not," Jon Krasner, one of The Rockaway Hotel's partners and owners, explains. Terence and Dan Tubridy, brothers and third-generation Rockaway residents, are the hotel's other partners, along with Michi Jigarjian.
Not surprisingly, expect to find the requisite surf shops and surf crowd who have either decamped permanently to the Rockaways to divide their time between well, surfing, and whatever work will keep them afloat (sorry, not sorry!) or who won't hesitate to play hooky if the surf looks promising.
"I had three friends today call in late to work, to come surfing in the morning and then they jumped on the ferry to go into work," Krasner says.
To Jigarjian, who's also the hotel's social impact officer and curator, surfing is a means to connecting to the community and to visitors to the area: "... Bringing the surf and all of that culture — the urban beach — to all New Yorkers and connecting it with a place like this is such a beacon of hope right now."
As delighted as the folks behind The Rockaway Hotel are to provide a new offering to locals and nearby New Yorkers, their hope is to appeal to people far beyond NYC: "We want this to be an international escape for surfers as well," Jigarjian says.
Putting this past summer aside, Rambaran doesn't understand why the Rockaways hasn't gotten more attention worldwide: "it's baffling that the area isn't more of an international destination."
He cites infrastructure as one of the issues. The Rockaway Hotel is positioned to help with this.
The new hotel boasts 16,000 square feet of outdoor space. This includes a pool with a spacious sunbathing area. Just off the pool is outdoor restaurant seating. Upstairs is more space to eat and drink, relax and take in the view of Manhattan's skyline.
"To be honest, my biggest excitement is around the bar," says Eva Van Anglen, a Rockaway resident since 2018.
The Rockaway Hotel's cocktail list, which includes such classics as the Negroni and Old-Fashioned ($14 a piece), was much more to my liking.
I'm still on the fence about the cost of a very tiny (I thought this was Queens, not Manhattan) room: $400 on a weeknight after Labor Day, natch.
Van Englen hasn't said anything about staying over at The Rockaway Hotel, but she's taken advantage of its offerings for drop-in guests: "I can say I've been to the hotel about five times now in its opening month (for an art event, lunch, drinks and outdoor yoga, etc)."
Traugott, who's about to become a local again, agrees the new space has a lot going for it: "I think the food and drinks are a little nicer than other options in the area and thus they'll be the destination of choice for special occasions for a while."
Jigarjian says "bringing the community and the vibrancy of the already existing amazing culture here in Rockaway and giving it a platform," is one of the things she's hoping the hotel will do.
They'll have to work a bit harder to convince some of the locals there's something there for them, too.
A local artist I met on my way home from dinner at Whit's — a simply stellar brick oven pizza spot — referred to the hotel as "that bougie place for surfers." I nodded, not sure whether to be amused or embarrassed.
If it's true that "Rockaway represents New York City," as Krasner put it, then surely there's room for The Rockaway Hotel.