10 New Venues in New York for Summer 2021 Meetings and Events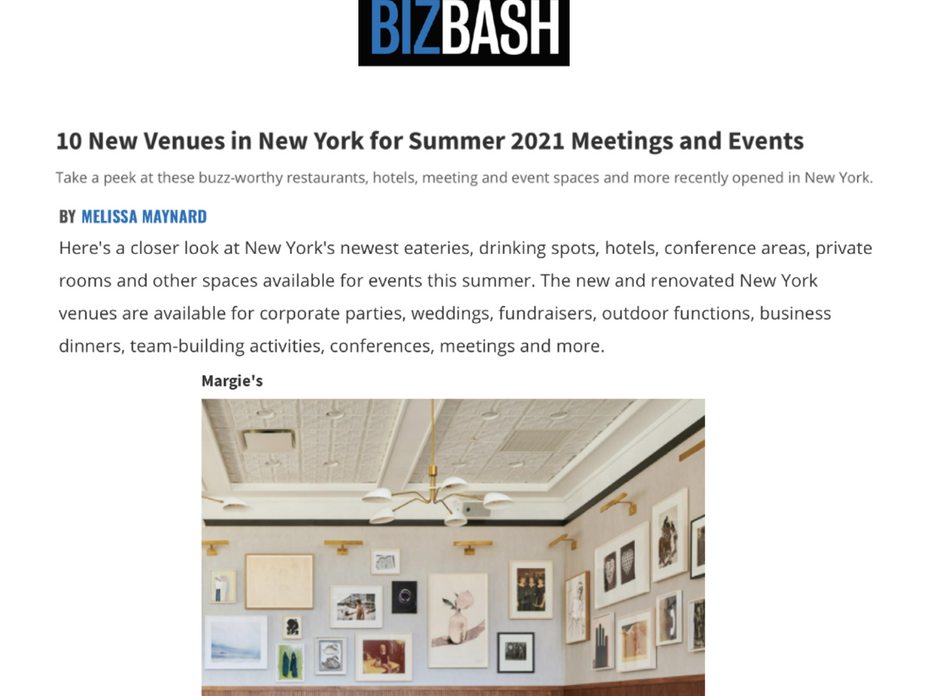 Take a peek at these buzz-worthy restaurants, hotels, meeting and event spaces and more recently opened in New York. - Here's a closer look at New York's newest eateries, drinking spots, hotels, conference areas, private rooms and other spaces available for events this summer. The new and renovated New York venues are available for corporate parties, weddings, fundraisers, outdoor functions, business dinners, team-building activities, conferences, meetings and more.
Margie's opened in May on the ground floor of The Rockaway Hotel. It is an ideal gathering space for cocktails for as many as 100 guests or sit-down dinners for 88. Helmed by IGC Hospitality, the restaurant offers its guests a menu filled with American classics, including steaks, pasta, main dishes and a raw bar with oysters, shrimp and seafood platters such as The Kraken, which includes king crab, lobster tail, tuna poke and more for up to eight guests. The 84,000-square-foot Rockaway Hotel has 53 guestrooms and 16,000 square feet of outdoor space. Other unique rentable areas include The Rooftop, a 6,000-square-foot space with gorgeous views of Manhattan, Jamaica Bay and the Atlantic Ocean that can accommodate 300 for cocktails. The 2,300-square-foot Ocean Terrace can hold 75 seated guests or 100 for a reception.