The Big Yard Mural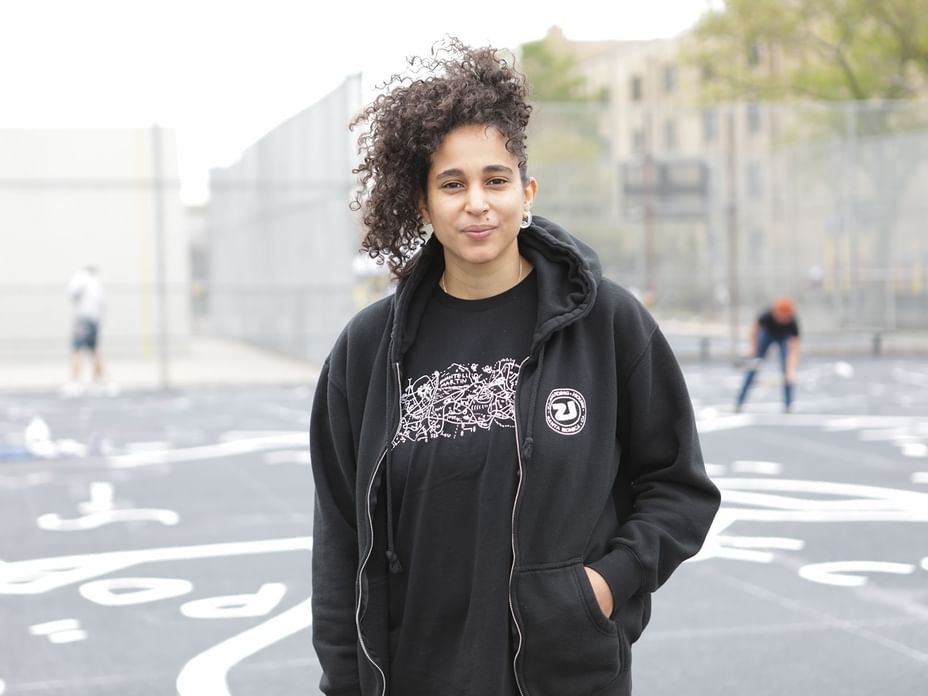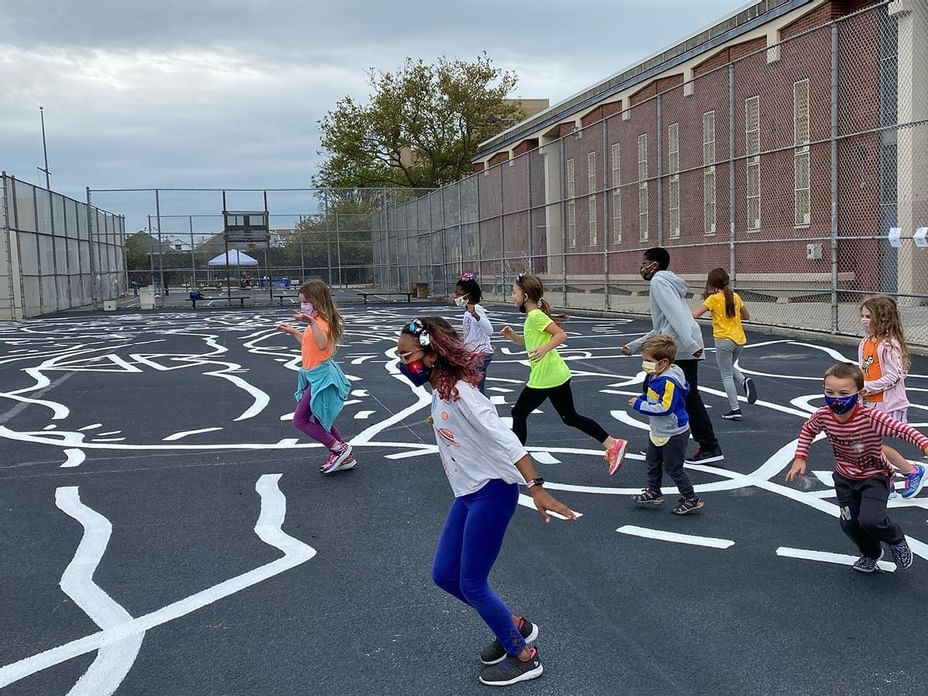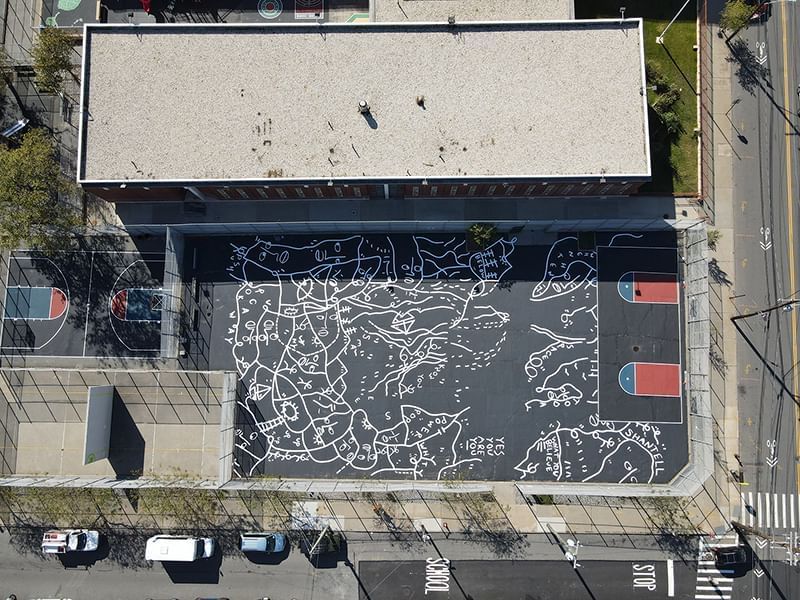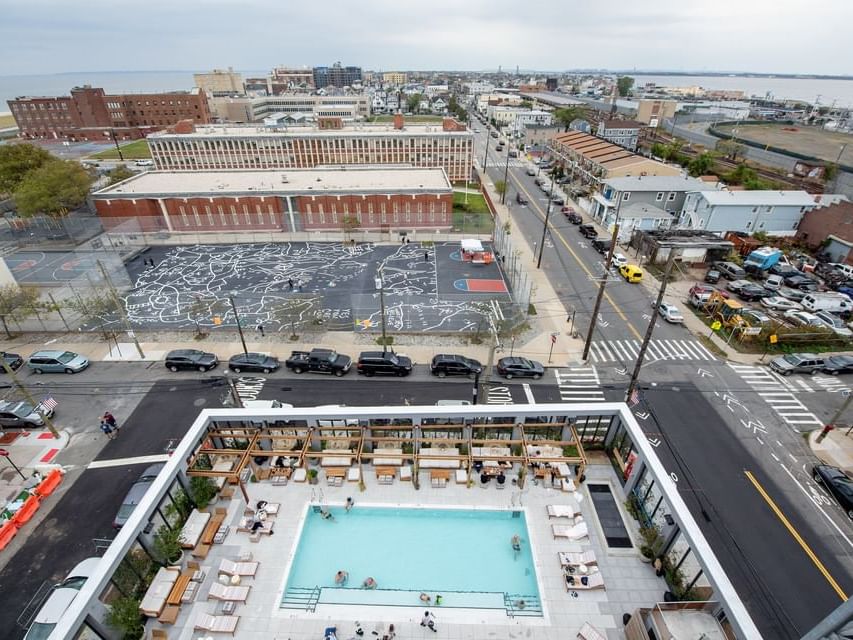 THE BIG YARD MURAL
October 7, 2020
Friends of Seaside Playground (FOSP), in collaboration with 7G Group, are pleased to announce Shantell Martin as the artist chosen for the Big Yard Mural. Martin's proposal will transform the "The Big Yard," located at Seaside
Playground on the corner of Rockaway Beach Boulevard and B109 Street in Rockaway Park, Queens, into an oasis
for the 700 students from Waterside Children's Studio School, Waterside School for Leadership, and th e community members who use the school's yard daily. The hand-painted mural will debut October 11, 2020, and is sponsored by the Rockaway Hotel.

Shantell Martin is best known for her dynamic, category-defying, larger-than-life drawings. Her work explores identity as a critical pathway to self-expression and often asks, who are you? Martin will use her signature lines, iconic shapes, and primarily monochromatic black and white imagery to reflect the vibrancy of Rockaway's community and urban beach landscape. Her proposal will transform the 16,000 square foot outdoor recreational space into a 360-degree activation where text and images will appear out of her fluid and interconnected lines.

"Through the wonder, movement, and layers of details embedded in her canvases, Shantell Martin's work naturally engages the collective imagination and brings people together," says Laura Frank and Carolina Cisneros of FOSP.

As part of the programming, Martin will lead a socially distant virtual workshop to engage students, community members, and local artisans invested in their community's beautification and revitalization.

"Art can be the connective tissue of a community, and we are so honored to work with Shantell Martin to bring her iconic vision of unity to the Rockaway peninsula," says Michi Jigarjian, partner and Chief Social Impact Officer of the Rockaway Hotel. "Facilitating public art initiatives for social change is paramount to the hotel's social impact goals."

Martin's mural will occupy a majority of Seaside Playground, which is visible from all vantage points to passersby on foot, onlookers atop The Rockaway Hotel's rooftop, and visitors traveling by air to and from New York City. The Big Yard Mural is made possible by generous support from The Rockaway Hotel, 7|G Foundation, and Citizens Committee for New York City.

Shantell Martin
Below the surface of Shantell Martin's signature black and white drawings is an artists' inquiry into the role of artist and viewer, where a work of art is more than an object of admiration disconnected from its inception. With a meditative process defined by an uninhibited flow, her compositions embody her internal state and the world's impermanence around her. Exploring themes such as intersectionality, identity, and play, Martin is a cultural facilitator, forging new connections between fine art, education, design, philosophy, and technology.

Friends of Seaside Playground
Friends of Seaside Playground is a grassroots organization dedicated to the promotion of wellness through art, sports and outdoor activities for children in the community. Its main goal is the capital reconstruction of Seaside Playground in Rockaway Beach, Queens. Through planting and cleaning events filled with social programming, FOSP, led by Carolina Cisneros and Laura Frank, seeks to empower residents and encourage children to care for
their park and take an active part in shaping the future of their public spaces.

The Rockaway Hotel
The Rockaway Hotel, an urban beach getaway for surfers and cultural enthusiasts, opened its doors in summer 2020 in Rockaway Beach in Queens, New York. Built with a deep commitment to honor Rockaway's vibrant culture, the hotel is an inclusive space that will be activated year-round with social impact initiatives and arts and cultural programming, core tenants of the hotel's ethos. The hotel offers a respite from the city bustle through a
modern-day retreat to the Rockaway peninsula. The Rockaway Hotel will usher in a new wave of visitors to the destination, celebrating the legacy and hospitality of one of New York City's most beloved beaches.

7|G FOUNDATION
7|G Foundation champions organizations and individuals that challenge inequality in human rights, education, art, and culture. By partnering with organizations, artists, and community facilitators, we seek to build strong community bonds that elevate local culture while supporting cultural change founded upon our core social impact and sustainability values.

@Friendsofseasideplayground @Shantell_Martin #ShantellMartin @TheRockawayHotel